I have struggled with super dry hair most of my time being natural. I
thought
I knew how to moisturize my hair but it would just dry out the very next day! I searched high and low for products, ultimately becoming a "product junkie",
eek
. Being the YouTube junkie that I am, I did my research and came across the L.O.C Method. Let me tell you, it changed my hair LIFE! Below are a few pictures illustrating my typical co-wash night using my new found love, the L.O.C method:
I found this little gem at the Nzuri Natural Hair Festival in Houston, TX. (Shout out to Pampered & Twisted Natural Hair Boutique!) This conditioner provides amazing slip for detangling and moisture for my hair. I love it because it is truly all natural and doesn't have any of the ingredients that damage natural hair. I also love that I wasn't left with the dreaded "frizz halo" after washing. It's the perfect co-wash!
"Get silky-soft and shiny hair using the Giovanni triple treat conditioner. It has organic tea tree botanicals to treat dry and flaky scalp. This hair conditioner gives natural shine to your hair while enhancing the scalp circulation. With a blend of 3 organic oils, it strengthens your hair from root to tip. Suitable for all hair types. Paraben free. Capacity 8.5 oz. ($6.99)"
Make sure you are using a co-wash that works well with your hair for maximum effectiveness.
Now it's time to moisturize!
The L.O.C method is essential for curly (type 3) and kinky (type 4) haired girls to boost moisture levels in their hair and maintain that moisture for several days before having to re-moisturize. (Count how many times I said moisturizzzzze throughout this post. Lol) You start by adding a leave-in conditioner (L) then sealing with an oil (O) and then add a butter or cream (C) to act as the last layer of moisture. This method may vary depending on your hair's moisture needs. A little trial and error will help until you find the method that's right for you.
Below is a chart detailing the process (if you're more of a visual person, like me.)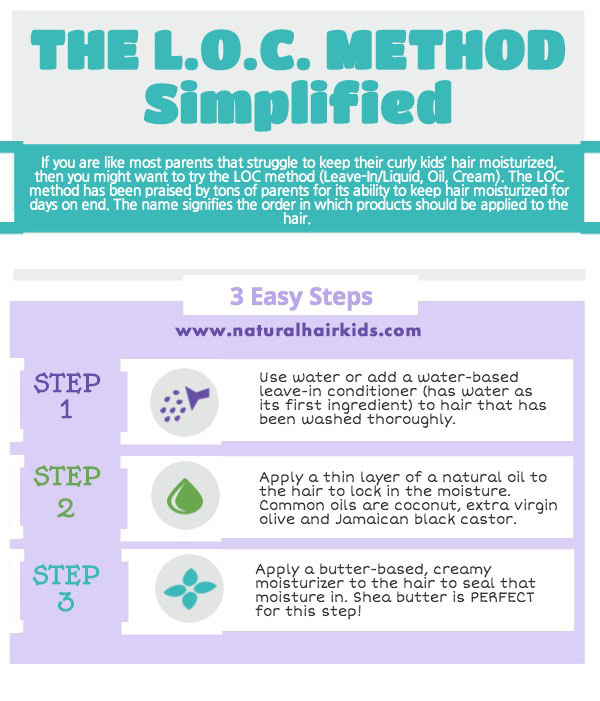 (source: Pinterest)
When I co-wash my hair, I typically seal my hair in the shower with Jamaican black Castor oil.
I only do this for an extra layer of moisture and because well oiled strands prevent those dreadful single strand knots every natural girl hates!
Products I used L to R:
- Jamaican black Castor oil w/ rosemary oil
I de-tangled my hair in the shower and placed my hair in 6 chunky twists for manageability.
I then took the twists down one by one and moisturized the small section making sure every strand was coated in product.
After I finished layering the products, I separated the section into smaller sections and two-strand twisted my hair to set for the next day.
My hair felt great! My curls were so defined and soft so I know I'm using the correct products.
Another tip: Make sure to concentrate product on your ends because they are the oldest and driest part of the hair strand. Focusing the product there will keep your ends moisturized, curly, coily, and cute! :)
I hope this helps! How do you maintain moisture in your hair?